Lisbon, shaken and bandaged by the 1755 earthquake, emerges with a new face, more beautiful with age. As Portugal's capital, we found this old-world city standing tall from the toll. The Carmo Convent is the perfect testament to this with its skeletal, rib-like arcades, resting and projecting against the airy open sky. 
Enshrined within architectural and chimerical details is Portugal's rich history.
Pena National Palace, in the neighboring town of Sintra, is reminiscent of Disney's colorful castles amidst cumulus clouds. Even the National Coach Museum exhibited pieces with intricate carvings that awakened memories of Cinderella's pumpkin chariots. Also preserved in Sintra is the four-hectare estate, Quinta da Regaleira, with its mystic constructions, parks and tunnels imbued with symbols. As we methodically descended the spiraling stairwell of the 27-meter deep Initiatic Well, a gem of this property, we were transported into what appeared to be Ofelia's mythical world in Guillermo del Toro's Pan's Labyrinth- a story brimming with imagination and self-discovery.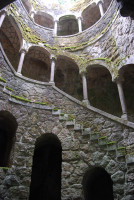 The elements of this estate were masterful and fantastical in concept and creation, a culmination of multi-disciplined craftsmanship and workmanship between the owner Carvalho Monteiro and his commissioned architect, Luigi Manini. The journey into their artistic vision juxtaposed to that of our own exploration through the streets of Alfama, Old Town Lisbon.
Maneuvering with nimble feet through the narrow, winding streets of Alfama, one block at a time, involved often an ebullient, quick-step dance between timeworn walls and oncoming 3-wheeler, chipper Tuk Tuks.
Meanwhile, we kept at bay through keen attention towards approaching Trolleys weaving through the steep slopes. A restaurant sales wolf approached us at every turn, which was a frequent diversion as they often led us to try the vast variety of Portuguese cuisine, cooked with seemingly homemade recipes.
After boundless discoveries, we formed azulejo tiles in our imaginations, bearing the hallmarks of our experiences and observations. Each memento had its details. There was the fleeting moment when we squinted through tomb crevices and stepped upon layers of civilizations at Lisbon Cathedral's ruins. Nature coaxed us back to play the childhood game of musical chairs, when we all dashed and dove under archways to wait out a flash flood on St. George's Castle. We freely chased after screeching trams for photo ops. After rambling barefoot along a patch of a rough sandy beach, we ended up resting quietly on a bench listening to the tempo of guitars at an Alfama overlook. The sun dipped behind the wrinkled sea surrounding Belem Tower.
We raised a glass of Port wine (and my glass of sparkling water) in silent gesture to resplendent wanderings as we were served lunch outdoors on age-old Carmo Square (Largo do Carmo). Building on our tilework, we brush a warm, cheek-to-cheek 'Obrigado' to our week home in Lisbon, a venerable world thriving with renewed youth.
Lisbon, Portugal Gallery