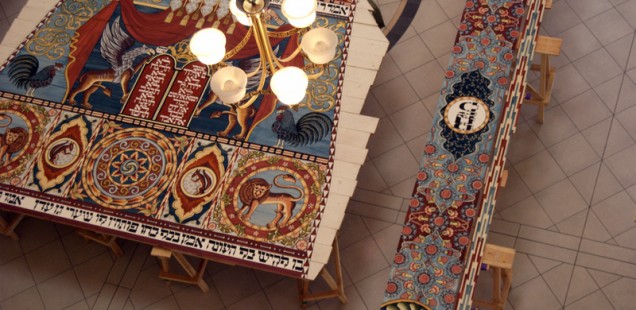 Making History In Poland's Sanctuaries
A few months ago, I immersed myself in an extraordinary project at the White Stork Synagogue (the only surviving synagogue in Wroclaw since the Holocaust) in Poland. The Handshouse Studio's "Learn by Doing" approach has inspired individuals and students of various disciplines to participate in its programs and learn about the process of restoring historical, unique structures. This past summer offered me a special privilege to work on the Gwozdziec Synagogue Replication Project.
After several sunrise til sundown periods of mixing paint and gesso from raw materials, preparing test panels, scrutinizing 17th century artists' styles, applying finished pigments onto wooden boards, complying to the rigid guidelines of restoring historical art, etc., our team completed the last portion of the roof's mural!
The cupola (80% to scale) will be part of the core installation at the forthcoming Museum of the History of the Polish Jews, constructed on the site of the Warsaw ghetto. According to Handshouse Studio, this project took "nearly 10 years of work: 8 years of research and 2 years of workshops, over 300 people, more than 400 pieces of the roof structure made out of 200 logs of wood, 29 sections forming the roof, 13 forming the lantern, 67 paintings of mythical animals, 1000 of flowers, bunches of grapes and buds".
Thanks to Handshouse Studio staff and supporters for helping to increase awareness of symbolism in art, allowing for the progressive understanding of our history.
For more details about the project.
View The Videos Of This Endeavor
PART 1:  Setting Up The Workshop
PART 2:  The Cupola's Final Stage of Completion
PART 3:  The Meditative Art of Mixing Paint
PART 4:  A Process for Replicating Historical Art
The Challenges In The Work Behind This Project
As a mixed media artist with an abstract style, I had to replicate the style of another artist while returning to a simpler palette; I had to break away as much as possible from my own techniques and learn the steps and skills applied by artists centuries ago. Taming my own creativity as I monotonously repainted the same strokes daily for 2 weeks to perfect an image on wood, so it would cry out its symbolic legacy; and then learning to make peace with the image and myself when I put it onto the final panel for exhibition. Letting go of the images I painted in this program was at first difficult and then surprisingly easy as the thought eventually entered my mind that they were never mine in the first place; moreover, I learned to trust that my techniques had aligned with that of the template and protocol. I made allegiance to an academic system to restore this piece of art and quieted my mind to the outside world to merge with the piece I was making – to sense what it is like to be re-born in the modern world, to carry a name that no one knows. The discord in ideas between working with other painters transformed into accordance by submission to "it is what it is" as shown in our historical archives. As a working professional of many years in various industries including direct hands-on experience in the workplace, I understand the work ethic and making a living abiding to it. As a member and student of this program, I soon realized that being docile and applying that same work ethic in this Handshouse studio was the way to efficiently master the art of restoration of the project we worked on; turning away from novelty was essential to building this piece.